Originally published at S. J. Chambers. You can comment here or there.
No frills post here, but before I go into a barrage of self-promo, I would like to take a moment to thank everyone who has supported and encouraged me this year.  2011 was off-the-charts, and was so due to friends old and new, so Happy Holidays friends, my glass is raised to you all.  Cheers!
I get down with Leonora Carrington over at WeirdFictionReview.com
Article:  "Down, Down, Down," a new article about my reaction to Leonora Carrington's "White Rabbits," ran on WeirdFictionReview.com last week.  "White Rabbits" can be found in the beastly important WEIRD COMPENDIUM by Ann and Jeff VanderMeer. This great tome has been released in the UK, and will be available in the US next April!
Review:  The end of the year has been good to THE STEAMPUNK BIBLE.  There is a CNN Geek blog feature on Steampunk cinema featuring my co-author Jeff VanderMeer on the topic, and we've been in several end of the Year's Best lists, including Barnes and Noble.  Woo!
Readings:  I am thrilled to be participating in a literary/Tally reunion with dear friends Jesse Bullington and Molly Tanzer on Tuesday, December 27th.  We will be pairing fine beers from Fermentation Lounge with our respective short stories, starting at 7 pm.  I will be reading my short story, "Dr. Lambshead's Dark Room," that was published earlier this year in THACKERY T. LAMBSHEAD'S CABINET OF CURIOSITIES, and because that is a short ditty, perhaps reading an older piece involving pet raptors.  It should be a very fun evening, and I hope to see all those in Tally Tally there.
Changes:  I've been making some changes to my life, both literary and personal, and one of those changes is that I am stepping down from my role as Senior Editor at Strange Horizons.  I will miss editing, but the Articles department staff is comprised of some of the best people in the world, and is in very good hands with Dave Nagdeman.  I wish the staff and writers at Strange Horizons the very best, and I look forward to reading them in 2012.
 Well, that's it for now.  See you next year, every one! Cheers!
Originally published at S. J. Chambers. You can comment here or there.
Edgar Allan Poe, 1848 "Ultima Thule" daguerrotype
Hey, there's a book out on Steampunk Poe!
Based on the Wired.com review, it sounds like an anthology aimed at Young Adults pairing Poe's stories and poems with Steampunky illustrations by Zdenko Basic and Manuel Sumberac.  There's a book trailer here.
I had heard rumors, but hadn't actually known what it was about until my friend Rob pointed it out to me.  It looks very cool, and once I get my hands on it I'll report back.
And, if you are curious about how Poe is Steampunk exactly, why, you are at the right blog.  I've been writing about Poe for several years now, especially about his influence in science fiction, and from those influences, is easily a proto-Steampunk.  Below are links to three articles dealing with those topics, and which eventually were combined and transmuted into the Origins chapter of The Steampunk Bible.
Was Poe Steampunk?, Tor.com.

What I Here Propound is True: How Science Fiction was POEned, Fantasy magazine. Which by the way, check out their very spooky new header illustration.

SF's Founding Father Turns 200, Strange Horizons.
And if you are looking for art, there have also already been great artistic  interpretations of a Steampunk Poe like Dr. Grymm's Edgar Allan Poe Nightmare Inducer which is currently part of the Steampunk Bizarre Exhibit at the Mark Twain House.
Speaking of proto-Steampunk, we hear a lot about Grandfathers, but what about Grandmothers?  Oh, they are there, and the Steampunk Poe guys are paying her her due too with a Steampunk: Frankenstein follow-up.  Wired.com made a great point that this is a good way to bring Poe to kiddies, which I agree whole-heartedly and am just thankful that this revamping is done via illustrations and not by trying to transpose modern trends onto the original text as has been the dreadful mash-up trends of late.
Originally published at S. J. Chambers. You can comment here or there.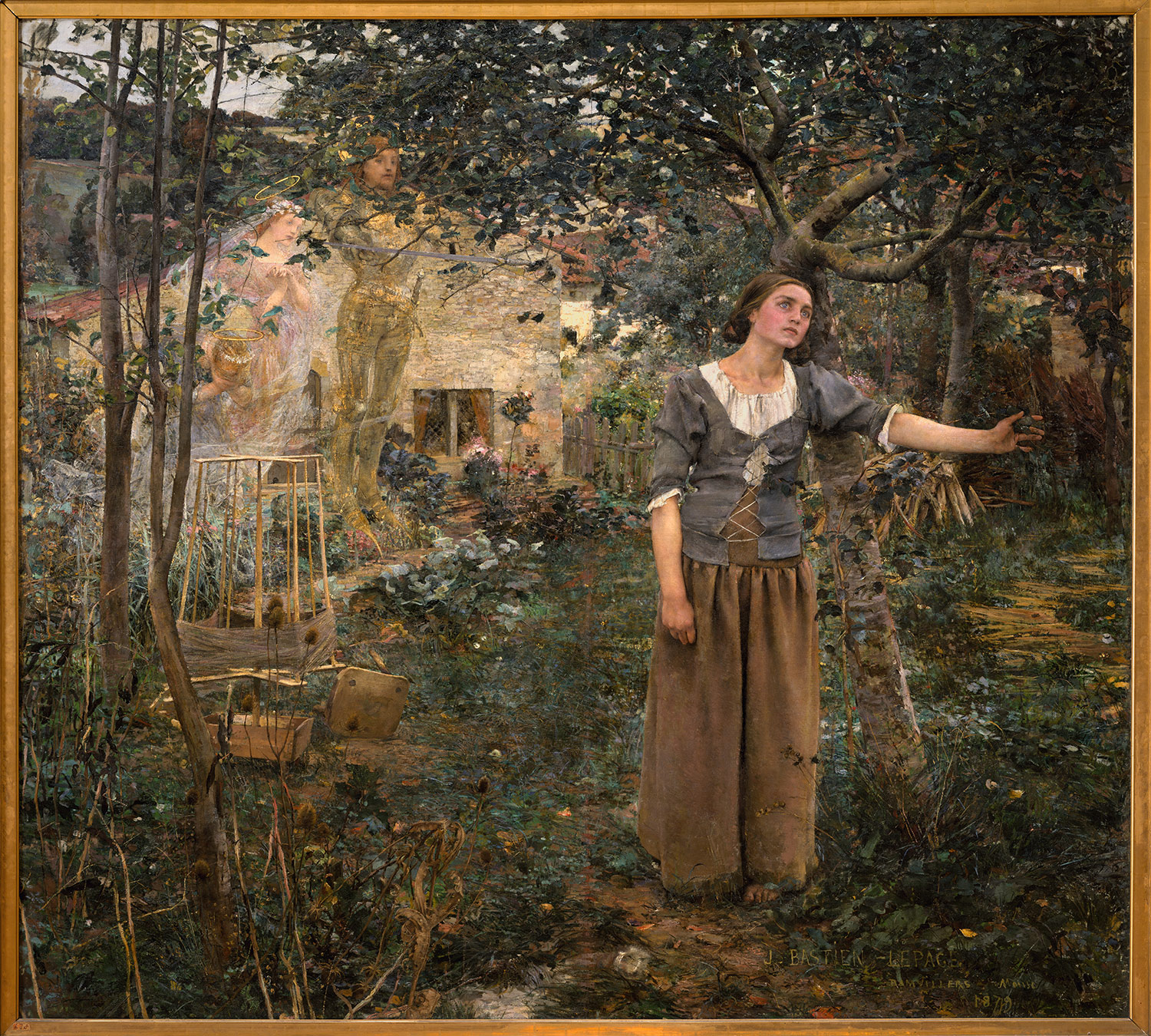 Joan of Arc, by Jules Bastien-Lepage, 1879, Metropolitian Museum of Art
Happy Halloween everyone! This is one of my favorite days, and in preparing to judge the Ghost Story Telling Contest at The Artifice Club's 2nd Annual Mechanical Masquerade this coming Nov. 12, I thought I'd pull out a trunk story that has some elements of horror in it. My horror is pretty tame and subtle, so a prose poem with brain slurping is the best I have right now for today.
There is a great reason why this is a trunk story, and it took me all weekend to work that out. Originally, I entertained doing a podcast, either video or audio, reading the story, but lacked the theatrical schizophrenia needed to connote voice change.  Even in publishing it here, I struggled with connoting the breaks in voice, and had to resort to lame bold and italics.  But, even so, I am fond of it, mainly because my intent was to write a prose poem about   Joan of Arc as a Cthulhu zombie, and I think I did ok. I hope you enjoy!
Originally published at S. J. Chambers. You can comment here or there.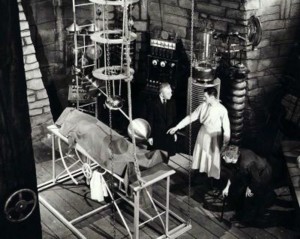 In which the kitchen becomes my lab.
Ok, so I call this dish Coq au Vin à la Frankenstein because basically I got home from work Monday with the overwhelming desire to cook something amazing, but with little enthusiasm for going to the store.  So, I decided to ransack the coffins and sepulchers of my kitchen for any ingredients that might work together, and low and behold I had these yummy specimens:
5 strips of bacon

6 boneless and skinless chicken breasts

1 yellow onion

3 garlic cloves

Pinch of salt

pinch of thyme

pinch of rosemary

2 pinches of basil

Pinch of black pepper

1 1/2 quart of chicken stock

1 bottle of cheap-ass wine, or you know, a combo of all the open and semi-filled bottles lying around in one's laboratory.

3 stalks of celery

4-5 whole carrots

1 whole green pepper
You need a stock pot and a metal spatchula.  Begin to brown the bacon in the pot, and as the bacon cooks, dice the strips in the pot with the spatchula.  Let the bacon simmer for about ten to fifteens minutes, and while that is happening, begin to chop up the onions and prep about 3 cloves of garlic for pressing.
Remove the bacon and press the garlic and let it simmer in the grease for five minutes (meanwhile you can start chopping on those carrots, celery, and green pepper), then add onions and stir it all around.
Next, you will want to add the broth and wine, then the salt, black pepper, thyme, rosemary, and basil.
Hold up: no bay leaves?  Bay leaves are pretty pointless at this point as this is more of an impromptu dish than a soaking and simmering one.
Let everything come to a boil and simmer while you finish chopping up the veggies, then stir them in.  Next comes the brains of this concoction, the coq of our vin, ladies and gentleman:  six chicken breasts.  Once they are added into the broth, make sure everything comes back to a boil, then lid and let the wonders of electric heating galvanize the pot for about 20-25 minutes.  In this time, make sure to rotate the breasts in the vin-broth. [Oh, that's what Mary said!].
So, while you wait for 20 minutes for your creation to be realized, go take a breather. Think about world domination, or what would make a good side.  I'd suggest going for Africa first, as that seems to always be the Golden Ticket in Risk, and jasmine rice is always a nice starchy accoutrement.
Once the stupid egg timer goes off and destroys your gentle reveries, dinner should be done.
Warning:  I once had a bad incident with raw chicken, so I'd suggest even though 25 minutes should be enough, I'd take one breast out and dissect it for any fresh abnormalities. Once all has passed inspection, cry "It's alive! Er, I mean READY!" and laugh manically while serving your guests.
This is the first time I've ever written a recipe, and like I said, I composed this dish rather haphazardly, so it may need tweaking to taste.  But my experiment turned out quite tasty, and so I wish you equally salient results in your own diabolical cooking.
Originally published at S. J. Chambers. You can comment here or there.
The Steampunk Bible event in London was held at The Last Tuesday Society, an eclectic and delectable gallery that sponsors beautiful and decadent balls, and has on its basement floor an extensive cabinet of curiosities they call their Little Shop of Horrors.
The event was a lot of fun and the audience was really engaged.  Hendrick's Gin sponsored the night, and made sure everyone was loosened up for the conversations with Jema Hewitt, Kit Cox, a.k.a. Major Jack Union, and Sydney Padua.
Oh look, it's Napoleon's Brain!
Psst…Hendrick's…psst.  While everyone else is distracted, I wanted to tell you that I am forever now a devoted imbiber of your fine poison. If ever you  feel inclined to sponsor an anachronistic writer, I'm your girl.  Oh, yes.
Ehem.  Sorry, it was just a moldy orange. Anyway, Vadim Kosmos was very nice to let me take a brief video of the basement to give you all a feel of this wonderful place. If you are in London, this is a must visit.
For whatever reason, WP wouldn't let me embed, so here's the link.
Originally published at S. J. Chambers. You can comment here or there.
Strange Horizons annual fund drive ends tomorrow.
The Strange Horizons fund drive has been underway since August, and it ends tomorrow night.  I am thrilled to see we are almost at our goal–68% to be exact.  For those who have donated into that 68%, thank you!  For those of the potential remaining 32% still on the fence, perhaps I can persuade you.
I have been with Strange Horizons for almost three years, two as the senior editor of the Articles Department, and I can tell you that every dime donated by our readers goes straight into the content.  For every $20 donated, a poem is procured; for every $40 a column is collected; and for every $50 an article is acquired.  For more information on where the donations go, please read here.
Originally published at S. J. Chambers. You can comment here or there.
The 2nd Annual Mechanical Masquerade will be Nov. 12 in Atlanta, GA.
You know, eventually this blog will have little stories, and little videos, I brought back from the Euro Tour, but for now I need to make a quick announcement.
Just when you thought all this Steampunk Bible touring was over, then comes the Artifice's Club 2nd Annual Mechanical Masquerade in Atlanta, GA!  The intrigues begin at 5 pm on November 12.  I will be there donning a veil and mask to dance, laugh, sign a few books, and (what I am MOST thrilled about) judge a ghost story contest.
Wha..wha..what?
That's right, judging a ghost story contest (which is a check off my bucket-list).  If you are in the area, and are interested in regaling me with a spooky tale, here are the details from The Artifice Club site:
"Lest there be any question – The Artifice Club wants to make sure all those entering the story telling competition have the spirit and the letter of the rules laid out. SO READ THESE RULES TO THE END (click "Read More"). Just as a reminder – the event date is November 12th – in Atlanta at the Mechanical Masquerade 2: Paranormal Fantasy. The judge is S.J Chambers – co-author of the Steampunk Bible and notable expert in her field of all things anachronistic. Your stories must be compelling, chilling, terrifying, inspiring, but most of all, memorable.  The very existence of mankind may hang in the balance but… no pressure!  Most wondrous of all is of course the prizes we shall award you for being the best.  If your story is good enough, you may live to actually enjoy these fabulous prizes, for they are as follows:

First prize is signed copies of these books, signed by Jeff Vandermeer and S.J. Chambers:
- The Thackery T. Lambshead Cabinet of Curiosities
- The Steampunk Bible
- A $25 gift certificate to Octane Coffee
…and of course bragging rights.

Runner up gets signed copies of books written by our sponsor Emilie P. Bush of www.CoalCitySteam.com.
- Chenda and the Airship Brofman and its sequel,
- The Gospel According to Verdu,
- A $25 gift certificate to Octane Coffee
Not as many bragging rights but still literarily respectable in most circles.

THE RULES:
The entry fee is EITHER a donation to the Atlanta Community Food Bank (the beneficiary of all of our charitable contributions this year – because there is no reason for a family go go hungry in Atlanta) of $5 or canned goods roughly equal thereto.
TIME LIMIT – You have 5 minutes to spin your yarn. You will be cut off if you go over – and how can you win if you don't get to the end?
THE GENRE – Must be a paranormal story, not a simple horror tale,
OWNERSHIP – It must be an original story (or your own version of an existing story).
GET REGISTERED: There is a limited number of entry slots – so you have to RSVP for a spot when you check in at the party.
CRITERIA: Points will be awarded for Originality, Spook Factor, Presentation, and bonus points for Steampunkish-ness."
So, if you are in the Atlanta area and have a spooky tale to tell, come register and tell it to me.  I don't bite, just nibble.
I would like to thank The Artifice Club founder, Dr. Quincy Erasmus Quartermain, a.k.a. Doctor Q,  for inviting me to participate!
And just to get you in the mood, here is one Gothic teaser I took in Paris:
Taken at Notre Dame, September 14, 2011
Originally published at S. J. Chambers. You can comment here or there.
Originally published at S. J. Chambers. You can comment here or there.
David Scherman by Lee Miller
After completing a highly successful fortnight tour throughout New England last May, Steampunk Bible co-author S. J. Chambers is jumping on a steamer and heading across the Atlantic.  She will be making two appearances, one in London and one in Paris, accompanied by various contributors from the book.
September 6, (Tuesday), London, U.K.—Viktor Wynd's Little Shop of Horrors/The Last Tuesday Society, 11 Mare Street, doors open at 6 pm, show begins at 7 pm– Part of the Hendricks lecture series, co-author S. J. Chambers invites you to the official U.K. celebration of the her book The Steampunk Bible (Abrams Image).  Part lecture, part signing, and part entertainment, S. J. will be accompanied by contributors Jema Hewitt (author of Steampunk Emporium ) and Sydney Padua (Lovelace & Babbage) for a discussion of the movement, followed by a special performance by Victorian monster hunter, Major Jack Union.  For more details, please visit here, and tickets can be purchased here.
September 16 (Friday), Paris, France—Librairie L'Antre Monde, 142, rue du chemin vert, 6 pm–The French Steampunks' present Tea Time with S. J. Chambers (coauthor of The Steampunk Bible) and Etienne Barillier (author of Steampunk! and a prominent French Steampunk member) for an evening of discussion, signing, and tasty treats.  You can find more information here.
Originally published at S. J. Chambers. You can comment here or there.
The new VanderMeer anthology was released today.
I am happy to announce that today sees the birth of a wonderfully bizarre and beautiful anthology:  Thackery T. Lambshead's Cabinet of Curiosities, edited by Ann and Jeff VanderMeer, and which is available for purchase here.   This book is already an LA Times recommended summer reading selection, and features over 60 pieces of art, including four originals by Hellboy's Mike Mignola and two original sculptures by Jake von Slatt.  In addition to that, it is chalk full of fine writing by some of my favorite writers.  You can find a table of contents here.
What's it about?  Well:
"After the death of Dr. Thackery T. Lambshead at his house in Wimpering-on-the-Brook, England, a remarkable discovery was unearthed: the remains of an astonishing cabinet of curiosities. Many of these artifacts, curios, and wonders related to anecdotes and stories in the doctor's personal journals. Others, when shown to the doctor's friends, elicited further tales from a life like no other. Thus, in keeping with the bold spirit exemplified by Dr. Lambs­head and his exploits, we now proudly present highlights from the doctor's cabinet, reconstructed not only through visual representations but also through exciting stories of intrigue and adventure. A carefully selected group of popular artists and acclaimed, bestselling authors has been assembled to bring this cabinet of curiosities to life.
An independent follow-up to the cult classic The Thackery T. Lambshead Pocket Guide to Eccentric & Discredited Diseases, a Hugo Award and World Fantasy Award finalist…
Contributors include Holly Black, Greg Broadmore, Ted Chiang, John Coulthart, Rikki Ducornet, Amal El-Mohtar, Minister Faust, Jeffrey Ford, Lev Grossman, N.K. Jemisin, Caitlin R. Kiernan, China Mieville, Mike Mignola, Michael Moorcock, Alan Moore, Garth Nix, Naomi Novik, James A. Owen, Helen Oyeyemi, J.K. Potter, Cherie Priest, Ekaterina Sedia, Jan Svankmajer, Rachel Swirsky, Carrie Vaughn, Jake von Slatt, Tad Williams, Charles Yu, and many more."
Not only is this book an object d'art, but it is also my first anthology sale.  My story "Dr. Lambshead's Dark Room," relays my visit to the good doctor in 2000 for treatment of my Poepathy, an experience that not only cured me, but inspired my later writings on Poe, like "The Poe Bug." It has mesmerism,  photography, and a lot of Poe-nerd artifacts for the Poe-nerd heart.
Nice Exposure, auto-portrait by S. J. Chambers
I wrote this story over a few months last summer:  the rough draft in Tallahassee, miraculously between weddings and Steampunky stuff, and took it to Nice  to polish up, and hoped-to-God the relaxing down-time of the Rivera would help me synthesize the effect I was going for.    I thought surely here, where Scott and Zelda Fitzgerald once roamed, and where inevitably my street was haunted by the headless Isadora Duncan, I'd be inspired.  But, the one morning when I stayed in to finish it,  I found I had no clue how the Dark Room worked.  So, rather than tear my hair out, I decided to screw around and pretend to be Cindy Sherman next to the flat's picturesque window.  What developed on my Canon was the image to the left.
Besides some cropping, this is an untouched photo.  It really disturbed me, because I looked like I was leaving myself, or imploding with energy.  Those two thoughts sent me musing, and the following words developed  on the page:
"We continued through the hallway, and the will-o'-the-wisps grew brighter as we walked through the cabinet until    we entered a dark chamber, empty but with the exception of two worn Louis XVI chairs.
'Ah, now we can really begin.'
He sat in one chair and gestured for me to occupy the other. The will-o'-the-wisps floated out of our hands and hovered between our eyes. They undulated, glowing and dimming in tune with my heartbeat that swooshed through my ears.
'I want you to watch the wisps,' he whispered, 'and tell me:  Have you experienced these following symptoms: soaring soul, existential exigency, speaking in cryptically symbolic metaphor, vertigo caused by sublimity, vision heightened by chiaroscuro, dead-dwelling, or head-swelling?'
'Yes,' I said.
'To all?'
'Yes.'
'Hmmmm. . . .' His disbelieving expression ebbed into a dare-to-hope.
The two will-o'-the-wisps glowed blindingly blue and I became dizzy and hot, and the doctor and the wisps became double-exposed, and somehow I was split twain by the sides until there were two of me. One sat in front of Lambshead and the undulating wisps, while the other, conscious and seeing, was free to traverse the room.
'Do you suffer from daydreaming reflex with reveries that include blackbirds, scents of an unseen censor, or aberrant alliterative applications?'
Beady eyes glowed from the wisps, and wings fluttered by my ears. I smelled dried flowers and cut grass, upturned earth and the fading waft of fabric softener.  I looked at my sitting-self in the chair and heard her indolent 'Yes.'
'What else do you see?'
Collage of illustrations included in the Cabinet.
I finished the story up that day, and sent it off.
If you are curious about what exactly I saw, and what the Doctor did to me, you'll have to pick up a copy of Lambshead's, but that is the VH-1 Behind The Scenes of  this story.
But, all of that aside, even if I were not involved in this book I'd be dying to add it to my collection.  The art is stunning, the stories unique and interesting, and the character of Lambshead himself is so enigmatic that I hope there is more about him down the line.